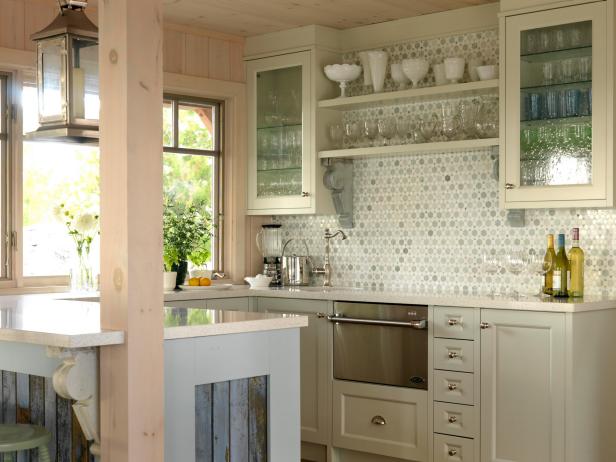 Happy Presidents Day! I hope you're all still voting away on all of the design elements for this year's spectacular Blog Cabin. I've been following the results with baited breath and have to say, you're knocking it out of the park!
Photo: HGTV.com
You have just one more day to vote on the kitchen design and I've been especially curious about how you all feel about a certain controversial kitchen feature: glass front kitchen cabinets.

Photo: MyHomeIdeas.com
When people dream up their ideal kitchen, glass front cabinet doors tend to be as polarizing as open shelving. When your kitchen is tidy, many think these features look gorgeous – but the question remains: can you be trusted to keep things looking good behind the glass?

Photo: MedinaExteriors.com
If your dishes are pretty cohesive and you have a separate enclosed place to hide brightly packaged dry goods, I say go for it. You've chosen your dishware and kitchen items carefully, so why not show them off?
Photo: OakTreeLife.com
If you're a little unsure about the upkeep connected to clear glass cabinetry, you could consider frosted glass instead. Especially in more modern home design, frosted glass cabinets can be a fantastic option. They're also less likely to show fingerprints or smudges.


Photo: thingsthatinspire.net
Another perfect solution might be to mix and match. Keeping only a few of your cabinets looking showroom-ready might be a lot more manageable than styling the entire set.
So what are your thoughts on glass front cabinetry on the whole? Are you up for the challenge or are you more likely to keep things behind closed doors? Let me know below!
Source: HGTV Remodels