When you're searching for square footage, the options within your home might be limited. If you don't have the space or the budget to add on to your home and moving isn't something you'd consider, converting your garage might solve some serious problems. Here are a few ideas to consider:
Photo: Freshome.com
If you don't drive, live in a warm climate or have covered parking available to you somewhere else, your garage might be an untapped resource. An extra living room like the one above might make your entire home feel more spacious. Replacing a traditional garage door with French doors is sure to transform the space instantly. Check your local building and safety codes before you kick off any projects that change your garage to make sure you're doing things right – and you can recoup your investment.
Photo: DIYNetwork.com


If you're athletic, you might find that your workouts trump your wheels. Turning your garage into a gym is a great way to ensure that you can exercise and practice consistently. One note: You may want to consider your attire and/or the space's heating options carefully. If your garage gets very cold at night or in the morning, it's important that you take necessary precautions to keep your body at a comfortable temperature for performance. Crack a door or window too for that all important airflow!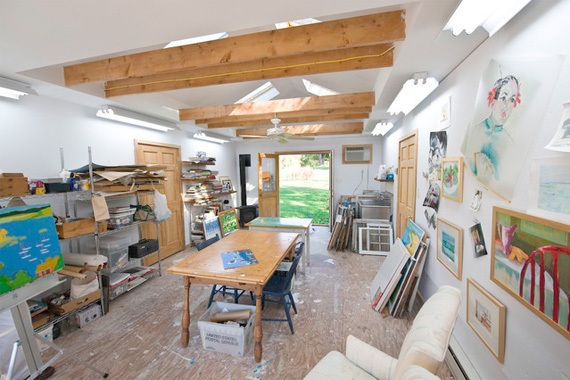 Photo: HouseLogic.com
A designated artist's studio might be a dream come true for you creative types. A converted garage will not only offer you privacy and peace, but it will allow you to splash paint everywhere without messing up your house. Not to mention you can blast your music out there if that helps you to artistically inspire you as much as it helps me.

Photo: Stagetecture.com
Currently, one in five employed Americans works from home at least three days per week. A home office has become a very valuable feature for a home to include. Reworking your garage to suit your professional needs might make a lot of sense – especially if you're hoping to keep your job from taking over your living spaces.

Photo: HGTV.com
And who wouldn't want their very own pub, hang out spot or band practice space in their home? Who needs to call a cab when you can retire to the hottest new club in town: Your driveway. The faux fireplace is certainly one way to make the space feel more permanent and planned.
So what do you think? Could you be tempted to kick your cars to the curb in exchange for a well-designed living space? Let me know if you use your garage for more than just housing your sedans and snow shovels.
Source: HGTV Remodels